Authenticity
Unicorn Snuggler
Specs
Machine washable, air dry

Intentionally designed without detachable plastic pieces to give caretakers peace of mind

Snugglers measure 16" L (including ears) and 9" W at the feet

Soft and silky fur, perfect for smooshy hugs

Stuffed with hypoallergenic fiberfill

100% Polyester material

Board Book (measures 
5" W x 7" L) & Affirmation Card (Affirmation Card style may vary)

See the

size chart

for a complete list of sizes for all of our products
What's Included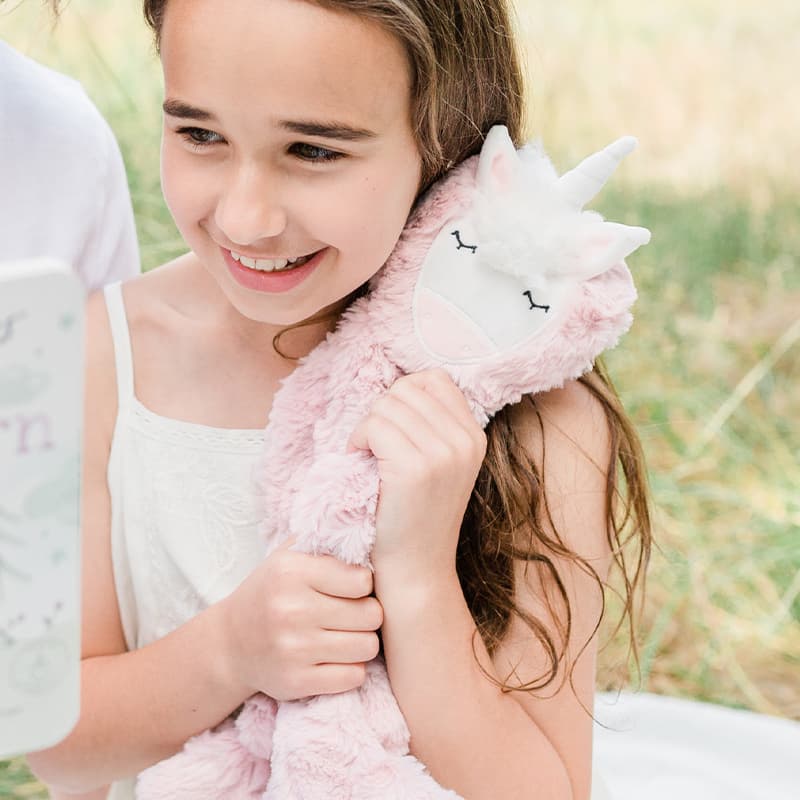 The Snuggler
A reassuring lovey for 0-3-year-old children with soft fur that's perfect for snuggles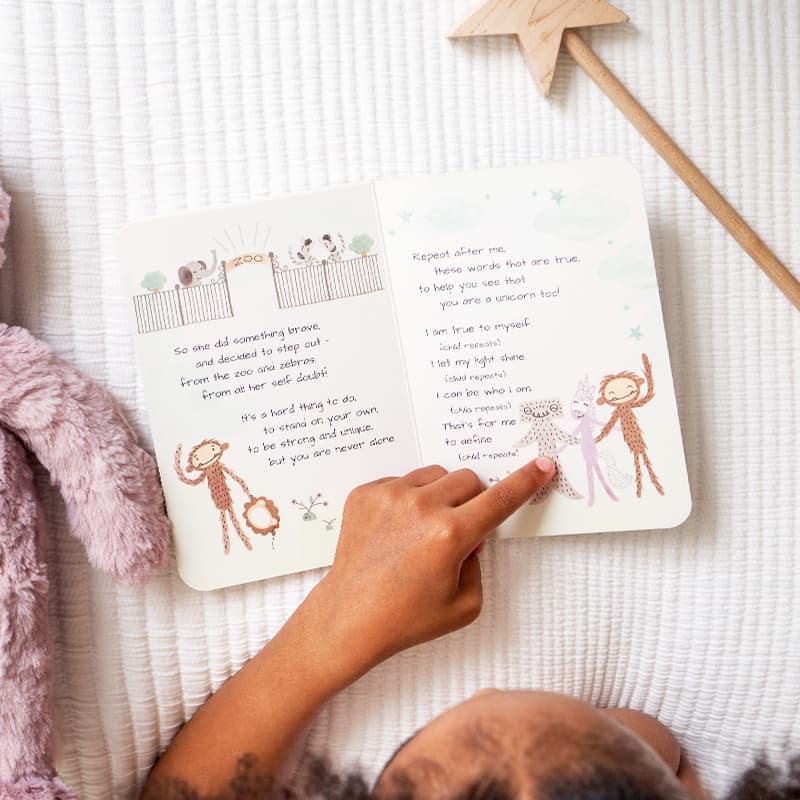 The Board Book
Unicorn Snuggler comes with the "Unicorn, Let Your Light Shine" Board Book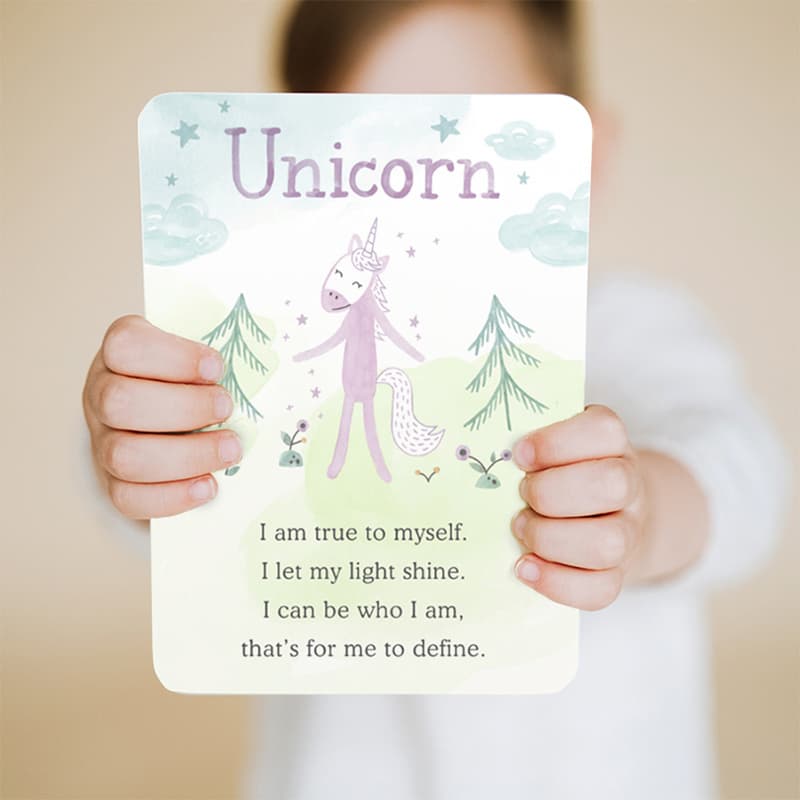 The Affirmation Card
A daily affirmation for your child to practice and carry with them wherever they go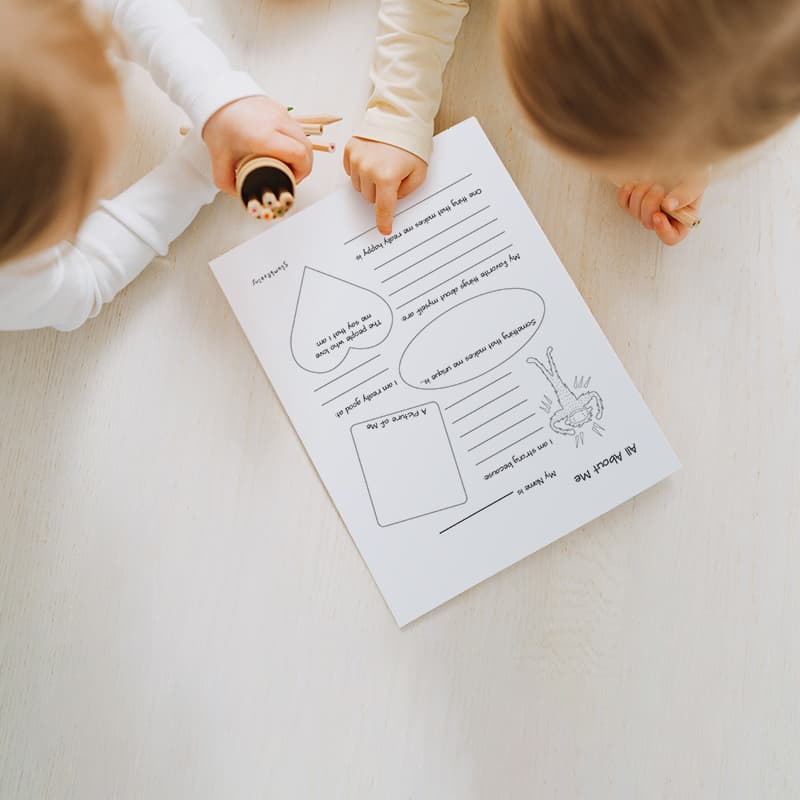 Downloadable Resources
Free resources like coloring and activity sheets, and games that you can download at any time
"Unicorn became my little lady's most desired after we got the Creatures Full of Feelings book. Unicorn's excited expression won my daughter's heart!"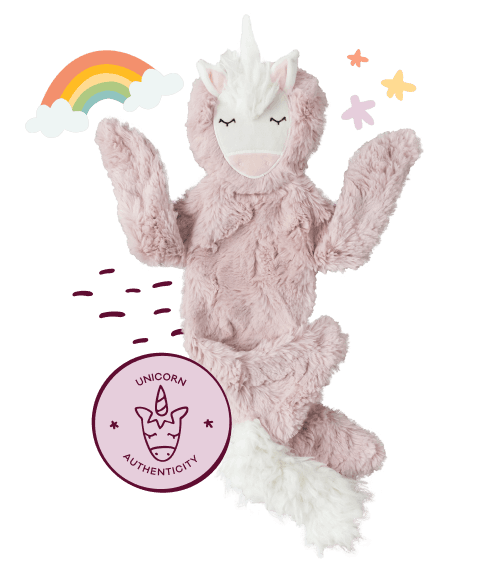 Customer Reviews
We have a total of 6 now…
Received narwhal as a gift for my son and he immediately took to it. Calmed him during newborn naps and now his go to for toddler sleep. We now have 6 slumberkins, 3 for my 2 kids. Really helped us during car ride naps so they can feel cozy and safe. My son cannot sleep without them and I'm sure my daughter will be the same. It's my favorite gift for baby showers because it comes with a book to sign. Supports me in teaching emotions. Totally worth it!
Perfect gift
My boys love their snugglers and they picked this one to gift for a friend's new baby, it's perfect!
Magical Unicorn
This is the softest lovey ever! Not only is this unicorn adorable but the message that comes with the book is the best message for not only my daughter but her twin brother as well.
Highly recommend!
We love all four of our slumberkins! The books are also great! They have great meaning. Looking forward to more.
Perfect Gift
My best friend is expecting her first little one and she LOVES unicorns and the color pink. I cannot wait to give this to her at her baby shower! The color is perfect and the story is awesome. This snuggler will be just right for her new baby girl.