Supports
Anxiety Reduction
Family Change
Coping Skills
Skill Building
Designed by a therapist and educator, each collection supports important emotional skills
Highest Certifications
Certified by the highest industry standards for quality testing and fair labor practices
Easy Care
Don't worry! All of our creatures are machine washable, because messes happen — NBD
Specs
Machine washable, air dry

Intentionally designed without detachable plastic pieces to give caretakers peace of mind

Kins measure 6" W x 14" L

Soft and silky fur, perfect for smooshy hugs

Stuffed with hypoallergenic fiberfill

100% Polyester material

Board Book (measures 
5" W x 7" L) & Affirmation Card (Affirmation Card style may vary)

See the

size chart

for a complete list of sizes for all of our products
What's Included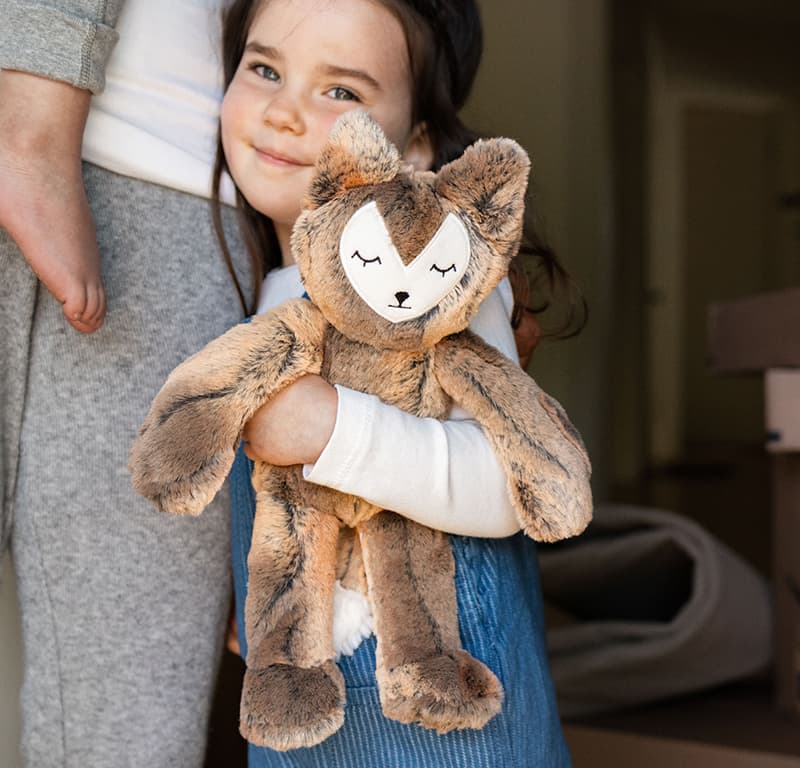 The Kin
Perfect for play and hugs, with stuffed arms and legs that 3+ little ones can grab onto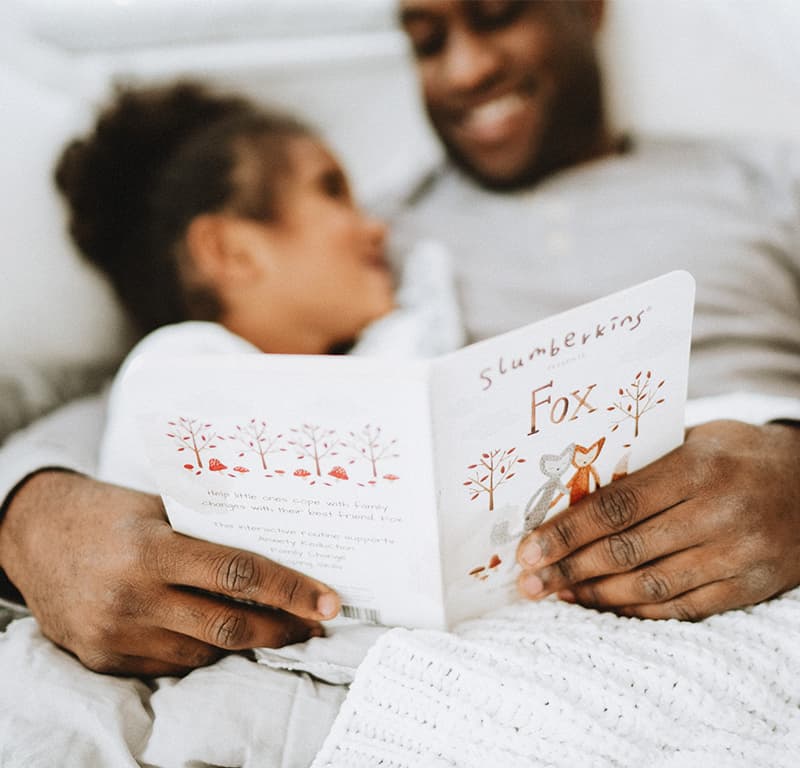 The Board Book
Fox Kin comes with the "Fox, Your Love Stays The Same" Board Book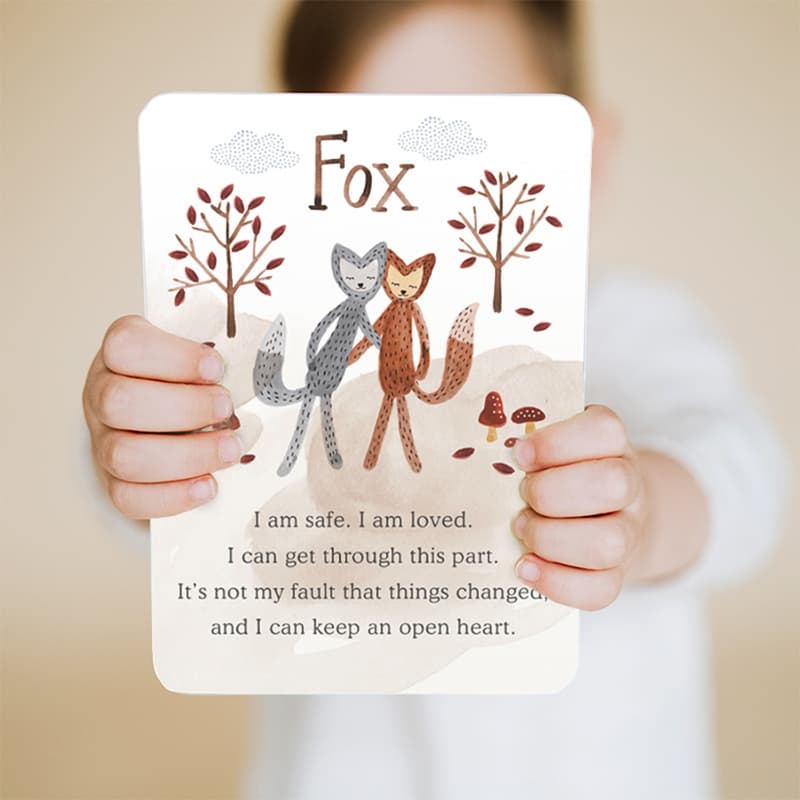 The Affirmation Card
A daily affirmation for your child to practice and carry with them wherever they go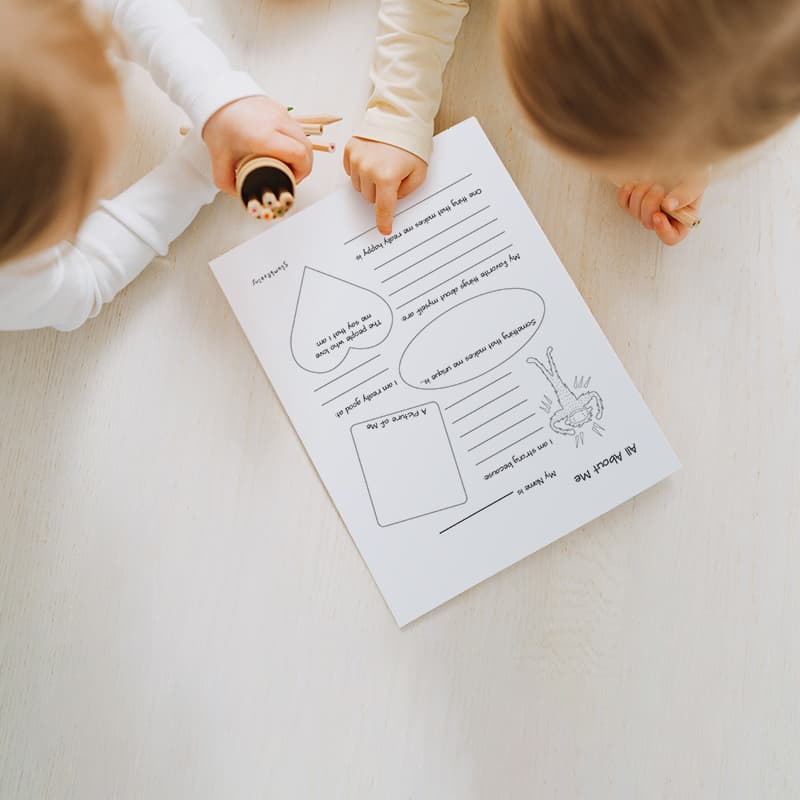 Downloadable Resources
Free resources like coloring and activity sheets, and games that you can download at any time
"Our toddler is getting a new baby sister soon; so with that looming change, we introduced the new Woodland Fox and she adores it!"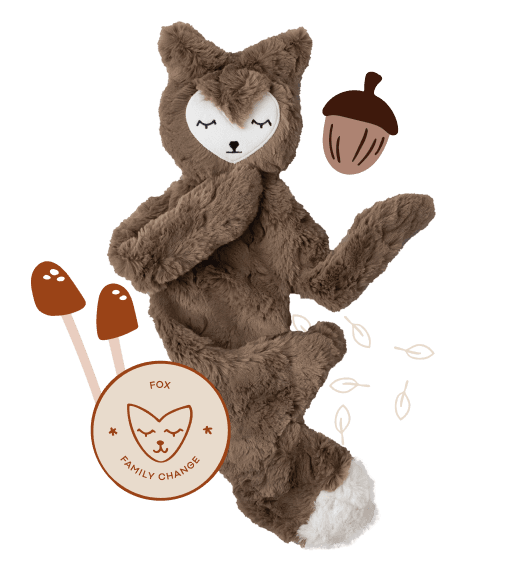 Customer Reviews
Favorite!
This fox is so much more beautiful in person and the story helps my son stay calm in situations that involve change.
Fox Slumberkin
We got the fox slumberkin for our daughter to help her deal with moving and changing schools. She has loved it and I absolutely LOVE the support for her emotional health and development!
Fox
I have purchased Fox for three different people; two children and one adult. Fox is unbelievably soft, the accompanying story and affirmation are important and spot on for anyone facing changes in their family (especially out of their control), and I know he has made a great companion. I am grateful for Fox and I highly recommend him!
Perfect!
Fox is amazing for children that split time between separated parents. it is a favorite for my 8 year old that goes to dads half the time. The affirmation is perfect for that! I recommend fox to everyone!
The Spark For Imaginative Play
My kiddo is autistic and has never really connected with stuffed animals/dolls/etc., not only was the Sapphire Fox (Wallie) her first named stuffed animal but Woodland Fox (Baba) was the first toy she picked out herself! She is mostly non-verbal and has always struggled with imaginative play, but her slumberfriends really sparked her creativity! They go down the slides and hug each other and get upset with her when she's having a hard time. WereFox (Woo) helped tremendously with her fear of dogs and is her current favorite.

Not only that, but the Fox story is amazing for autistic kiddos. Change is particularly hard for us so having reassurance and a sensory safe pal is a huge help for my little one. I love slumberkins (maybe more than my kiddo) and highly recommend them for anybody, parent or child, because they really are little friends to keep you company whether you're growing or healing!