Self-Expression
Lynx Kin
Specs
Machine washable, air dry

Intentionally designed without detachable plastic pieces to give caretakers peace of mind

Kins measure 6" W x 14" L

Soft and silky fur, perfect for smooshy hugs

Stuffed with hypoallergenic fiberfill

100% Polyester material

Board Book (measures 
5" W x 7" L) & Affirmation Card (Affirmation Card style may vary)

See the

size chart

for a complete list of sizes for all of our products
What's Included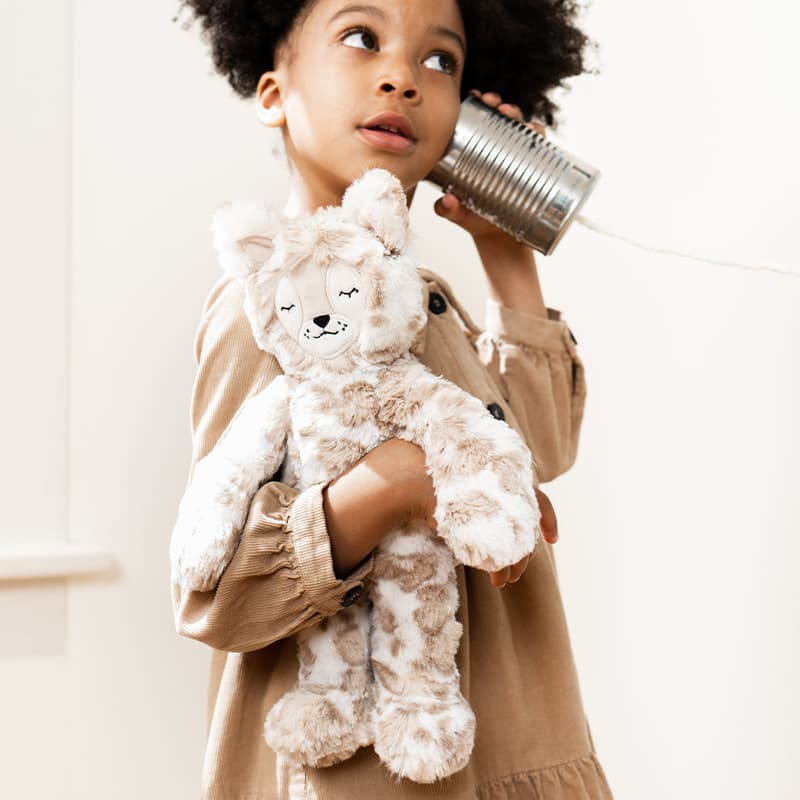 The Kin
Perfect for play and hugs, with stuffed arms and legs that 3+ little ones can grab onto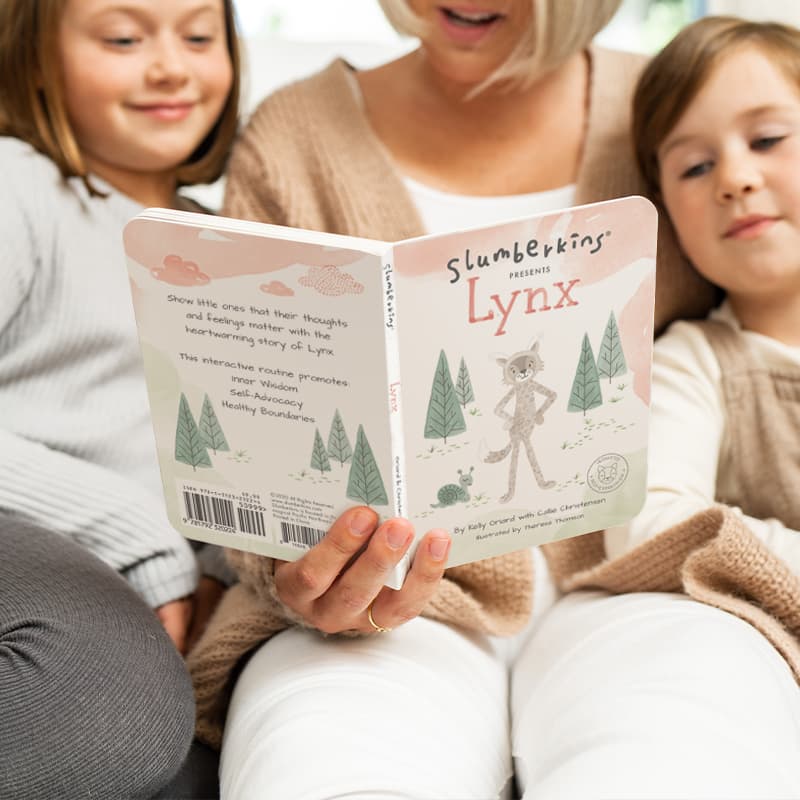 The Board Book
Lynx Kin comes with the "Lynx, Trust Yourself" Board Book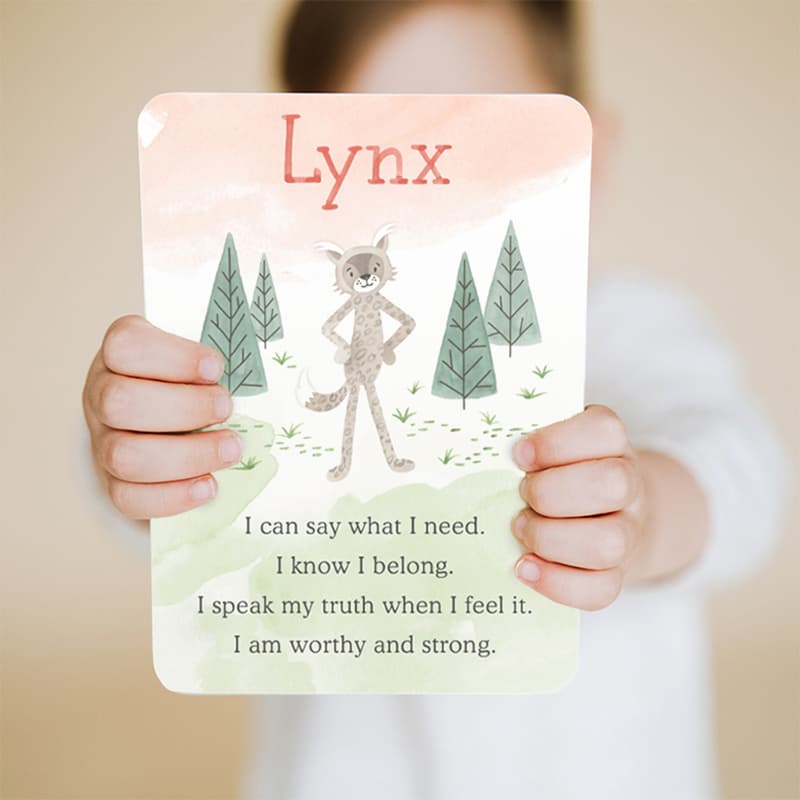 The Affirmation Card
A daily affirmation for your child to practice and carry with them wherever they go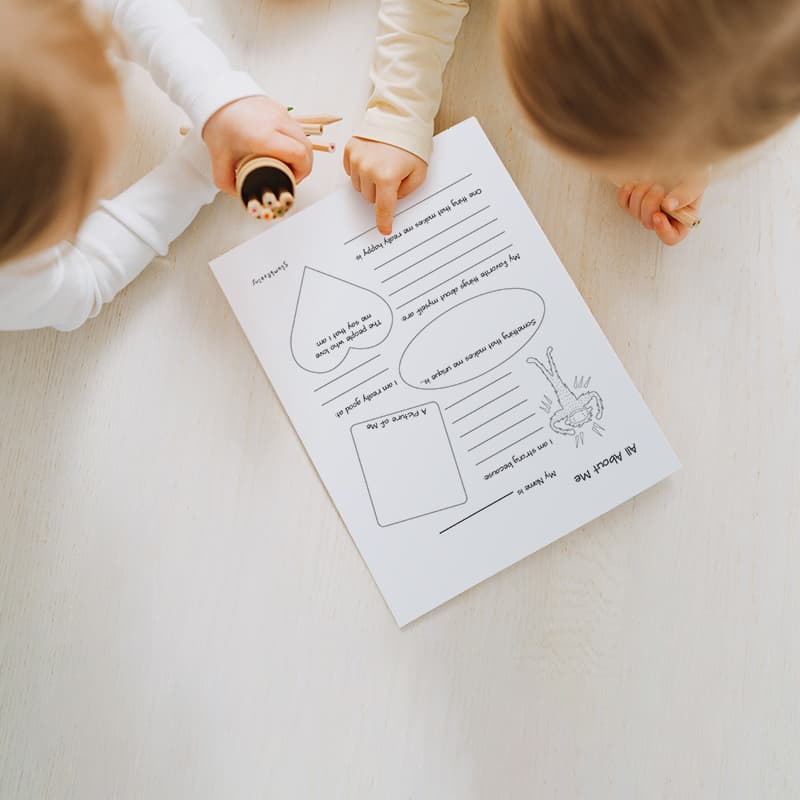 Downloadable Resources
Free resources like coloring and activity sheets, and games that you can download at any time
"We are so excited because Lynx is our first kin! I love how soft she is and how easy I think she will be for my daughter to hold!"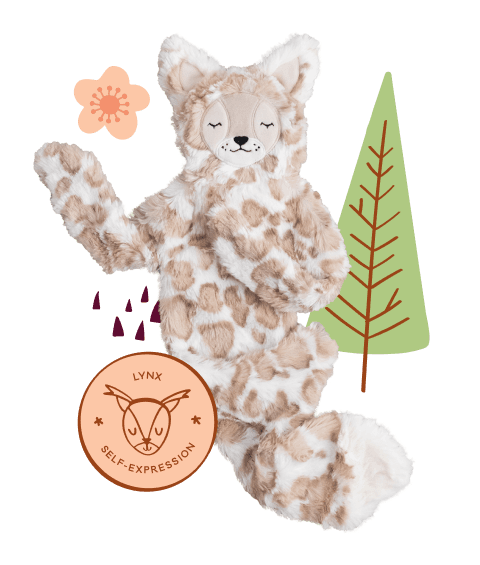 Customer Reviews
Lynx
We purchased Lynx and Yeti for our classroom Cozy Corner, and they are the most popular items in our room. We love how soft they feel, and they have great listening ears. Sitting in the cozy corner, we can tell them our feelings and ask questions as we grow our self confidence together. Our favorite part of having them in our classroom is "their magical stories"! We can npt imagine our preschool classroom without our Slumberkins!
Lifetime fans
Listen, our family cannot say enough good things about Slumberkins. We now have a "complete" collection (meaning we have one of each of the main creatures), because not only are my kids obsessed with all their snuggly little friends, but also I am obsessed with how cute the creatures are, and how lovely the books and lessons within them are for our growing brood. Not only that--if you haven't watched the show, you SIMPLY MUST--it is chock full of funny, tender, real moments of learning, as well as incredibly singable tunes (baby yaks are our FAVE!). Slumberkins can just go ahead and take all my money--the life lessons that come with these cutey patootie snuggly friends are worth every single penny. Also, THANK YOU for finally getting some merch out there--I just ordered the PJs from Nordstrom so that my kiddos can also wear their favorite creatures to bed at night...I have been waiting since the show came out for something like this, and you all delivered! :)
Love it!!
He is even cuter in person and so soft. We just found slumberkins recently and already we have three orders on the way. these exceeded my expectations
The perfect gift
I got this as a gift for my cousin's new baby girl Ava. I wanted Ava to have a long term furry friend and a book letting her know it's ok to be brave and speak your mind. Before I am shipping it out to her I made sure the plush and the book was ok. The plush is very nicely made and very soft. Made me want to get a Slumberkins for myself! I read the book and it was so cute and sweet. I wish I had a book like that when I was going up. I hope Ava will love Lynx and I can't wait to see her adventures with it.
We both love Slumberkins!
My 18 month old is a book girl, and my best friend sent me the link to slumberkins. She and I both work in ECE, I'm an infant teacher and she is a behavioral coach. I wanted to buy ALL THE THINGS! After some carefully applied self control, I settled on purchasing one Kin and several books. My daughter is really into stuffed animals at the moment, and when I read Lynx's description, I knew I'd found the perfect kin for her, as I'm always encouraging her to express herself. She was thrilled with her super soft new friend, and takes Lynx everywhere with her. She also had me read "Lynx, trust yourself" about four times in a row before I could convince her to try any of the other books we got! I am in LOVE with this company, and plan to speak to my center director about incorporating these books into our curriculum.