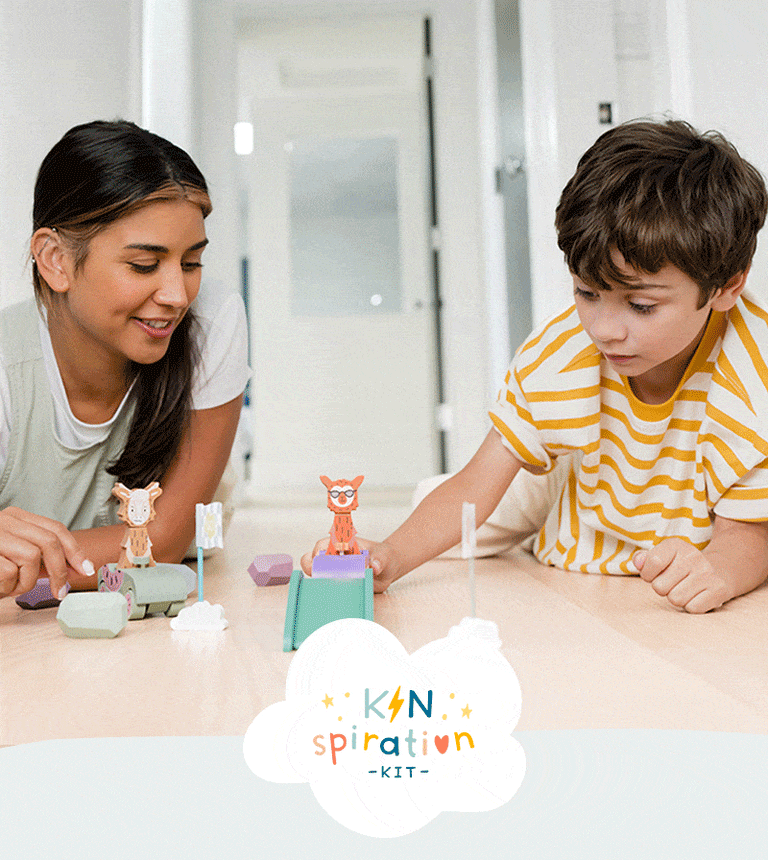 Where Feelings Come to Play
Subscribe to teach children confidence, self-expression and social skills. Each Kinspiration Kit brings transformative stories to life through immersive activities and hours of open-ended and adult-guided play.

Kickoff each adventure with a powerful story

Explore planned activities designed by therapists and educators

Immerse children in hours of intentional, open-ended play
It was exciting to see my four year old understand a lot of the big emotions and topics that the story sheds light on and incorporate them into playtime in a child-friendly way.
- Linnea,
Mom and Pediatric Occupational Therapist
See What Families Are Saying
Building emotional skills.
Delivering infinite fun.
Subscribe Your Way
Choose the best plan for your family, and we'll take care of the rest.
Pay as You Go
$78
(PER KIT)
+$10 store credit each quarter
Best Value
4 Kit Pre Pay*
$275
($312 value)
+$20 store credit each quarter
*Prepaid subscriptions are non-refundable. As a Prepaid Member you will continue to receive your prepaid boxes and have access to all the other amazing membership perks until the end of your prepaid annual term. For more information about our subscription visit our FAQ's.
Customer Reviews
Great value
Overall we love this! The silicone tray and bag to put everything in are perfect as well as the wooden toys and silicone molds that came with it. My sons favorite thing to do with the kit currently is reenact the story in the book that it came with and make snowballs and knock down the trees with the snowballs. The book was great and the Activity cards are something I always enjoy because it helps me be creative when I play with the kids or give them an idea to start playing. Where it's lacking and the reason for the star deduction is because the snow is really hard to work with. It's too hard and crumbly. My son was getting frustrated it couldn't scoop and there's no way to write in it like some of the activities suggested because the snow is just too hard. It does pack well into the silicone molds and with your hands though. It's a fairly easy fix to go buy some kinetic sand with a better texture it just won't be white like snow. I do also wish the affirmation card was like all the other affirmation cards with a sturdy feel to it because our paper it was printed on already ripped. We can't wait for the next boxes, this was a hit. Also the store credit that is also included makes this even better!
Very educational
This will be a birthday present to our soon-to-be 3-year-old. I am hoping this will help for him to be more creative. We love Slumberkins in our home and this kit made us love it more.
Obsessed 🤩
I have a 2 year old and this is an activity she stays focused on for a longgggggg time. It's also a fun tool she wants to keep coming back to throughout her day. I love this so much it has kept her away from screen time and plugged into her creative side. I also plan to use this with my 9 year old when she has her big emotions to calm her down.. I highly recommend this
Amazing- a wonderful engaging gift for my daughter
My daughter was drawn to the Kinspiration Kit like a magnet! From the unboxing to the thoughtful guidebooks to fantastic creative and top-quality play accessories, it's been an A+ all around. She especially loves the sand-snow!
Well made
Very cute and well made! We haven't played with it yet as it is a Christmas present, but I took a peek at everything and it is all very good quality. I love the tray and reusable bag. Even the box it comes in is adorable! I really want to get all of the boxes! They are adorable and would be so fun to play with all together.