Gratitude
Honey Bear Snuggler
Specs
Machine washable, air dry

Intentionally designed without detachable plastic pieces to give caretakers peace of mind

Snugglers measure 16" L (including ears) and 9" W at the feet

Soft and silky fur, perfect for smooshy hugs

Stuffed with hypoallergenic fiberfill

100% Polyester material

Board Book (measures 
5" W x 7" L) & Affirmation Card (Affirmation Card style may vary)

See the

size chart

for a complete list of sizes for all of our products
What's Included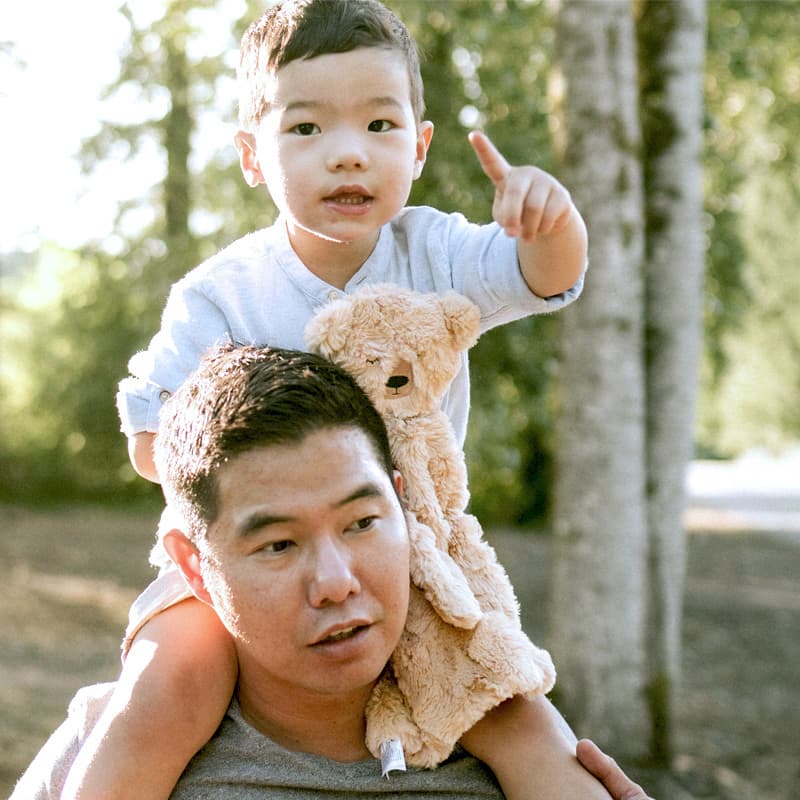 The Snuggler
A reassuring lovey for 0-3-year-old children with soft fur that's perfect for snuggles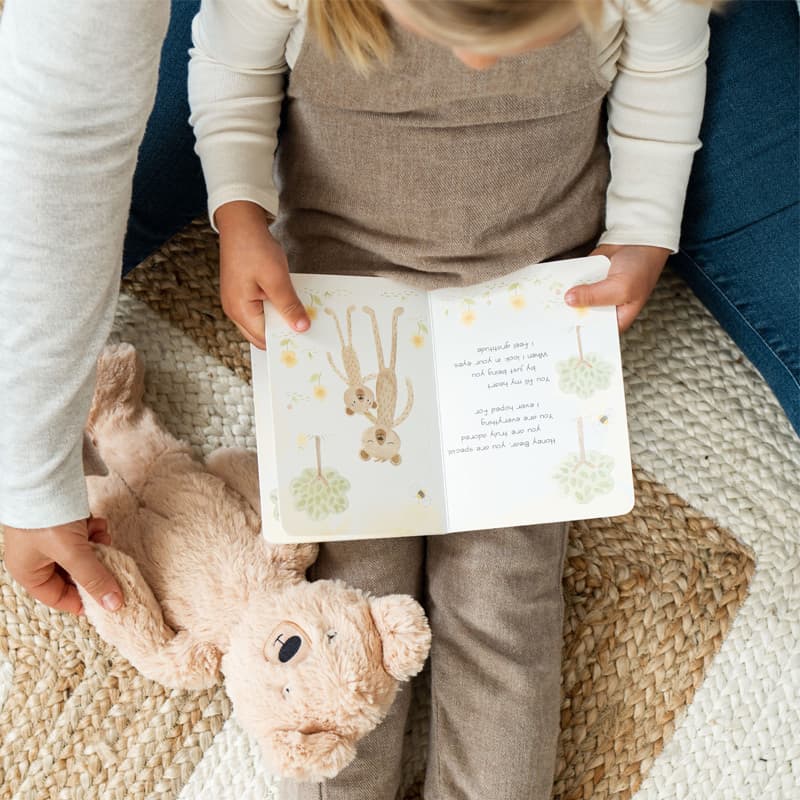 The Board Book
Honey Bear Snuggler comes with the "Honey Bear, I'm Grateful For You" Board Book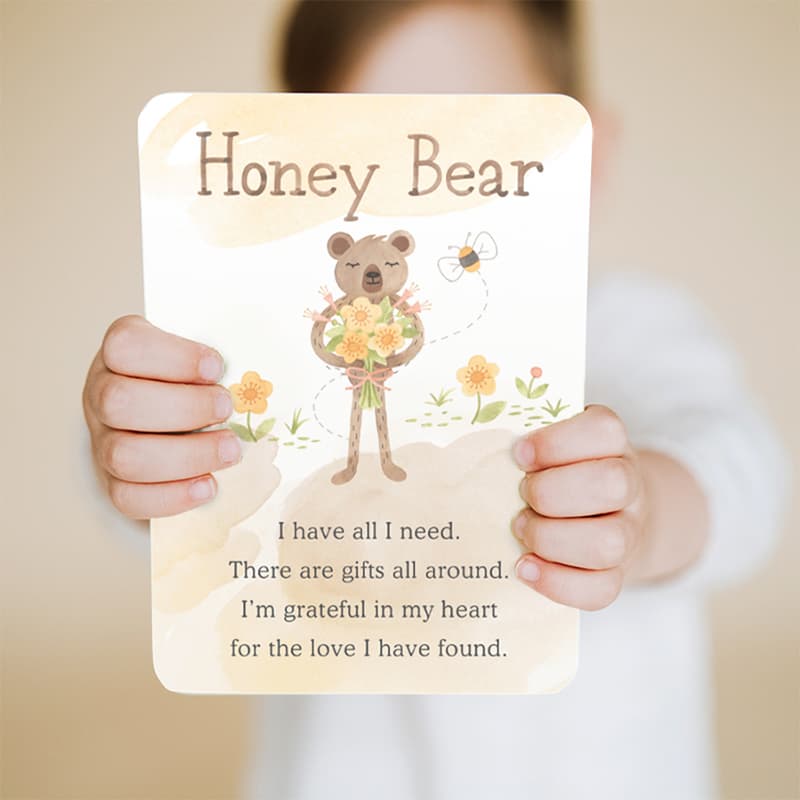 The Affirmation Card
A daily affirmation for your child to practice and carry with them wherever they go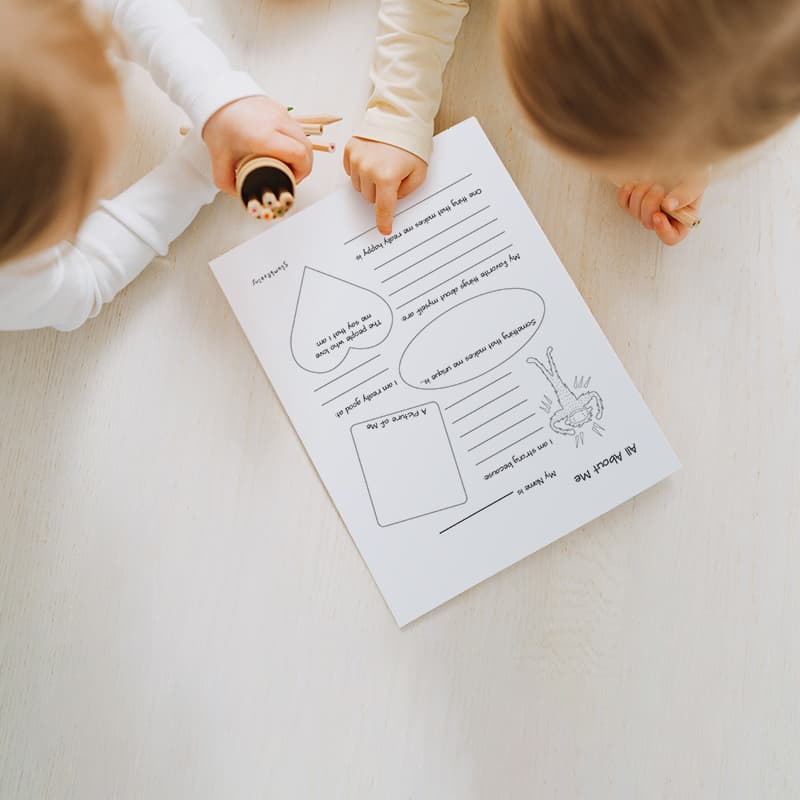 Downloadable Resources
Free resources like coloring and activity sheets, and games that you can download at any time
"My daughter (16 months) is obsessed with her new bear! Quality is amazing, message is wonderful and the shipping was lightning fast!"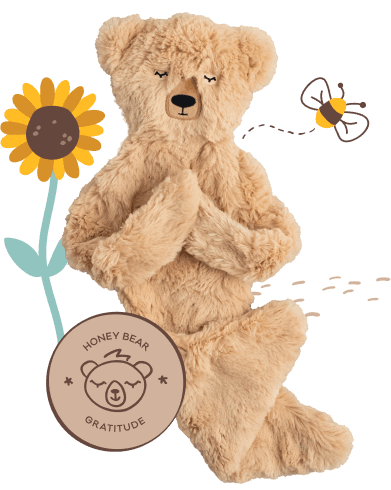 Customer Reviews
Love Slumberkins!
My daughter received a Slumberkin when she was born. She quickly latched on to it and it became her most favorite thing in the world by the time she was 6 months old. Now, as a two year old, she still can't sleep without it and it's what comforts her when she is tired or feeling under the weather. I think she loved it so much from an early age because it was so thin and soft and easier for her to cuddle with than a typical stuffed animal. Now I gift these for anyone I know having a baby and we have a backup in the closet in case anything happens to our daughter's yak!
Honey Bear
I have bought a couple different slumberkins now and both of my 7 yr old and 3 year old absolutely love them. The oldest reads the books at bedtime for all, while they cuddle their slumberkins.
My daughter and son-in-law love the card QR code with extra activities that comes with each one.
So soft and cuddly
I decided to order the Honey Bear for my one-year-old son. My son currently LOVES soft textures and blankets. When I saw the slumberkins, I felt like it would be just right for him. He loves to snuggle it while he is sleeping. He holds it while we look at books before bed, and I constantly catch him rubbing his face on it. He just loves it, and I couldn't be more pleased with the purchase!
A+ Customer Service & Product
I cannot brag enough about Slumberkins' customer service. I placed my first order during a sale, and had some issues with it getting lost in transit, but CS quickly sent out a replacement. I also had some issues with that replacement order, and CS came to the rescue again with replacing it with priority shipping. The product I received was better than I was expecting, and I am so glad I was able to finally order from this company to find out how great they are!
Baby Shower Gift
I bought this as one if the gifts for my daughters baby shower. We are new fans to slumberkins and the shower had a teddy bear theme. She can't wait to give the baby the snuggly creature, and later read her the book.