Grief & Loss
Sprite Snuggler
Supports
Grief & Loss
Acceptance
Resilience
Skill Building
Designed by a therapist and educator, each collection supports important emotional skills
Highest Certifications
Certified by the highest industry standards for quality testing and fair labor practices
Easy Care
Don't worry! All of our creatures are machine washable, because messes happen — NBD
Specs
Machine washable, air dry

Intentionally designed without detachable plastic pieces to give caretakers peace of mind

Snugglers measure 16" L (including ears) and 9" W at the feet

Soft and silky fur, perfect for smooshy hugs

Stuffed with hypoallergenic fiberfill

100% Polyester material

Board Book (measures 
5" W x 7" L) & Affirmation Card (Affirmation Card style may vary)

See the

size chart

for a complete list of sizes for all of our products
"Sprite came at just the right time to help our family with the loss of our pup and truly brings my daughter comfort when she misses him. Forever grateful!"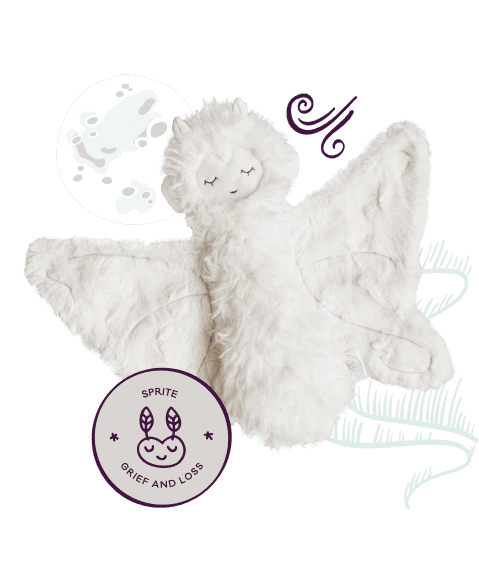 Customer Reviews
Special rainbow baby gift ❤️🧡💛💚💙💜
Trigger warning: Pregnancy loss/Rainbow baby

A close friend of mine had lost her baby girl 8 years ago, this year was her first Mother's Day to spend with her happy, healthy baby boy! This snuggler was bigger than I anticipated and I adored it. I used pink thread to embroider baby girls name in the wing. So special to gift. 🥰
Stunning in person
Sprite is just beautiful, seeing it in person it is even more so. Cuddly and soft. I have gifted several Sprites to friends and family and they all remark how soothing it is and how touching the story is. I highly recommend this as a remembrance gift or just to have a beautiful snuggie.
Grief Counselor
I've been using the Sprite snugglers, 1 ivory and 1 rainbow, with my grief groups (I work for a program that runs grief groups in schools for kids who've lost a parent or a sibling), and I think it really helped connect them with the story and provided some comfort on days when a particular kiddo was having a rough day. They loved snuggling them and passing them around group while we processed how we carry our loved ones in our hearts.
Best lovie ever
The meaning and love behind these animals are what make slumberkins the best. The stories and the people working for this company are the sweetest and I recommend them full heartedly.
Wonderful Grief Snuggler
I purchased Sprite for my baby to grow up with, in the hopes that it will help her understand about the death of her older brother. His story is very touching and I know it will be a big help. She loves to snuggle with Sprite. I love that it is both silken and ultra plush.