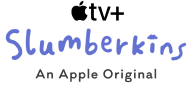 Discover a World of Feelings
Embark on adventures with Bigfoot, Unicorn, Sloth, Yak, and Fox as they explore a world of feelings in this Jim Henson Company series that brings the emotional learning of Slumberkins to life.
DON'T HAVE APPLE TV+?

Watch Slumberkins on Apple TV+, free for seven days.*
New customers only. One subscription per Family Sharing group. Plan automatically renews until cancelled.
Friends for Big Feelings
Meet the creatures who are helping parents and their children learn about friendship, confidence, and connection.
Episode Guide
Browse the episodes and explore their themes.
The Making of "Slumberkins"
Explore Slumberkins like you've never seen before in this First Look at the series.